Oil&Gas Equipment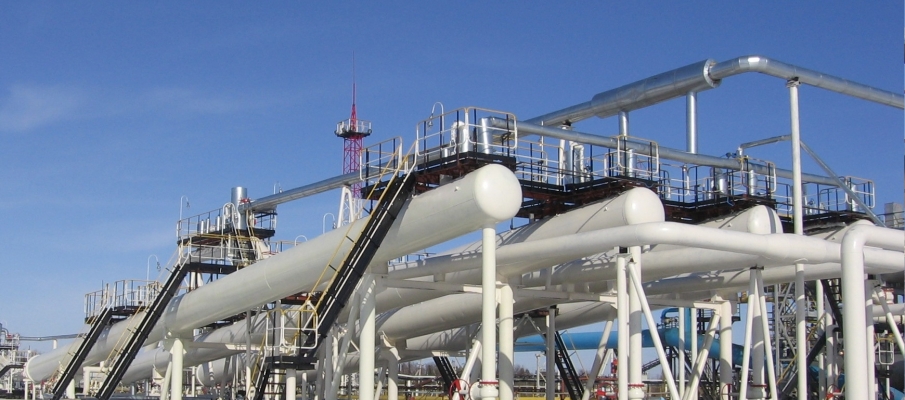 Evropeyskaya Elektrotekhnika PJSC launched a new business line in 2018: design, development and supply of highly efficient modern modular equipment for Oil&Gas production, Oil&Gas processing and gas-chemical enterprises.
RNG-Engineering LLC (Republic of Bashkortostan, Ufa and Belebey), a structural subdivision of PJSC Evropeyskaya Elektrotekhnika, specializes in these activities.
Company advantages:
Quality control of the supplied equipment and installation work, at all stages;
Highly qualified specialists: designers, project managers, engineers of various specialization - technologists, designers, automation specialists, installers, etc.;
Well-functioning logistics infrastructure offers the shortest delivery times for products to customers' facilities throughout Russia, Kazakhstan, Belarus, and the CIS countries, to remote regions of the North; delivery of bulky goods;
Operation of the system for monitoring environmental protection and labor protection;
Availability of necessary certificates and permits of SRO in the field of construction and design; The quality management system of RNG-Engineering LLC is certified in accordance with the international standard ISO 9001:2015. In 2020, the Company successfully passed the technical audit of INTERGAZCERT, which ensured the inclusion of RNG-Engineering LLC in the register of suppliers of PJSC Gazprom.
Availability of a wide range of necessary equipment;
Flexible financial options.
The company performs a full cycle of work, including:
inspection of facilities and issuance of technical and technological solutions;
development, design and construction of newly constructed facilities;
manufacture and supply of complete technological lines, block-modular equipment, pumping stations for various purposes, mobile complexes for research and development of wells, flare units, gas separation units, gas treatment units, individual apparatuses and units, etc.;
reconstruction and refurbishment of existing installations;
development and implementation of modern hardware and software for automated process control systems;
installation supervision;
commissioning works, field supervision.
All equipment of RNG-Engineering LLC is certified by the Federal Agency for Technical Regulation and Metrology for compliance with the Technical Regulations "On the Safety of Machines and Equipment".
The combination of a wide range of products and services rendered allows the company to quickly develop and complete non-standard and serial equipment and carry out construction with turnkey delivery to customers.
The company designs, develops and supplies the following types of equipment:

COMPLEX PROCESS UNITS
Oil treatment units (UPN)
Preliminary water discharge unit (UPSV)
Modernized discharge phase separators (KDFT-M)


Mobile units for survey, gathering and processing of wells
Mobile platforms for well survey and development (PKIOS)
Mobile preliminary water discharge unit (MUPSV)
Container-type equipment


Gas treatment units (UPG)


Flare units (FU)
Horizontal flare units (GFU)
Gas vent stack (SR)
Pipe gas expanders (TGR)
INNOVATIVE UNITS FOR UTILITIES AND INDUSTRY
Units for reduction of sulfur content in oil products
Installations for saving fuel oil
PROCESS EQUIPMENT
Input pipe expanders
Mixing tanks (SM)
Slug catchers (UPOG, UPOG-M)
Modernized gas and oil separators (NGS-M)
Modernized gas and oil separators with water discharge (NGSV-M)
Modernized oil settlers (ONM)
Modernized water settlers (OVM)
Advanced water filtration unit (UGOV)
Modernized knock-out drums (GSM)
Centrifugal knock-out drums (GSC)
Separational units for oil with high gas ratio (SBVG)
Flare knock-out drums (GS)


Modular pump station (BNS)
Automated line heaters
Technical upgrade of existing equipment
Detailed products information
is available on the website of RNG-Engineering LLC.
(in Russian only).